Our family plans to be on vacation this next week so I'll post two lessons today so you have one for next week as well.
This painting of Hagar and Ishmael in the wilderness by

Jean Baptiste Camille Corot comes from the Biblical story recorded in Genesis 21. You can read it at the following link

(you can change it to KJV by scrolling on the "New Living Translation" if you prefer that)

Genesis 21 NLT
Our march today by

John Philip Sousa

is titled "The Belle of Chicago" and is played here by a Cypress Springs High School Symphonic Band. The Belle of Chicago
I've been thinking about some of you being new to poetry and feeling that John Milton may be a stretch for some of you especially if you have young children so I'd like to feature poems by one of my favorite children's poets,

Robert Louis Stevenson

, weekly along with John Milton's poems. If you don't already own a copy of A Child's Garden of Verses, I highly recommend it. There are many wonderful editions with a wide variety of art work. We live in the North with its long summer days and short winter ones so I often quote this poem to my children: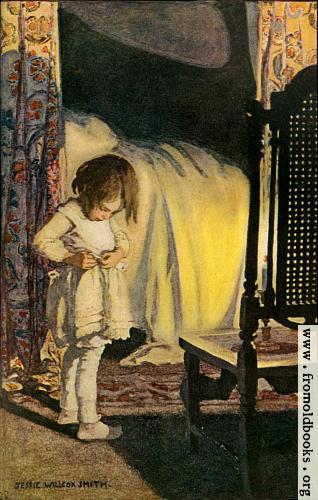 I couldn't resist this cute painting....
Bed in Summer
In winter I get up at night   
And dress by yellow candle-light.   
In summer, quite the other way,   
I have to go to bed by day.   
   
I have to go to bed and see          
The birds still hopping on the tree,   
Or hear the grown-up people's feet   
Still going past me in the street.   
   
And does it not seem hard to you,   
When all the sky is clear and blue,   
And I should like so much to play,   
To have to go to bed by day?
Our poem by

John Milton

today, "Samson Agonistes" is also based on a Biblical character, Sampson. You can read about him in the book of Judges.
Oh, how comely it is, and how reviving
To the spirits of just men long oppressed,
When God into the hands of their deliverer
Puts invincible might
To quell the mighty of the earth, th' oppressor,
The brute and boisterous force of violent men,
Hardy and industrious to support
Tyrannic power, but raging to pursue
The righteous, and all such as honor truth!
He all their ammunition
And feats of war defeats,
With plain heroic magnitude of mind
And celestial vigor armed;
Their armories and magazines contemns,
Renders them useless, while
With winged expedition
Swift as the lightning glance he executes
His errand on the wicked, who, surprised,
Lose their defense, distracted and amazed.
But patience is more oft the exercise
Of saint, the trial of their fortitude,
Making them each his own deliverer,
And victor over all
That tyranny or fortune can inflict.
Either of these is in thy lot,
Samson, with might endued
Above the sons of men; but sight bereaved
May chance to number thee with those
Whom patience finally must crown.